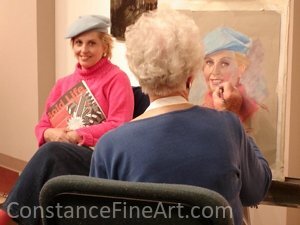 Constance's portrait by Ruth Goldsborough
Art, Humor, Loving Family & Friends,
Having Fun, Discovering, Traveling & Chocolate
(in no particular order)!
"Life is not a Spectator Sport! You have to MAKE your life happen!"
---says this so-called "Conn-Artist." And so she has. From figuring out how to
apply paint to canvas-- to get her art, "out there" for others to view, this artist is
well on her way.

Born in Buffalo, New York - she is old enough to have seen the Beatles perform
in 1964 and young enough to see McCartney (her favorite!) 40 years later and
have a ball dancing the night away!

In 2003, after a 17-year stellar Real Estate career in Rochester, Michigan where
she sold her way into the Top 1% of Real Estate Sales in the country;
Constance Vlahoulis and her husband Bill, relocated to the Asheville area. After
umpteen visits to Western North Carolina see her Mom, Step-father (who gave her
the "Conn-Artist" moniker), Sisters & Aunt & Uncle; "It started to feel like we
were leaving home when driving away from the mountains instead of
going home to Michigan when we would visit, " explained Connie. So a
major life change was underway.

Now firmly settled in the South, Connie feels blessed to be "really home."
"And finally, I returned to my creative roots and my first love which is ART."

Before the move she studied Pastel Painting with August Gloss of Romeo,
Michigan and attended workshop training with Doug Dawson. After winning
several art awards she began selling her work in Hendersonville at The Art
Market Off 7th.

Memberships:
The Art League of Henderson County
The Arts Council of Henderson County
Connie has also been a member of the Western North Carolina Plein
Air Painters and a Charter Member of the Appalachian Pastel Society
Her Folk Art has been represented by Wickwire Fine Art/Folk Art Gallery on
Main Street in Hendersonville, North Carolina. She has occasionally
demonstrated Collage-Art at the Arts & Heritage Gallery in The Historic Grove
Arcade in Asheville. This summer Connie is now represented by the Mountain
Made Gallery in the heart of the Grove Arcade. Connie is also represented by
The Design Gallery in charming Burnsville, NC, about 35 miles North of
Asheville.
Connie & her favorite "muse," (her Mom!), Barbara Hipwell attended
workshop study with fabulous Plein Air oil painter Sarah Sneeden.
Mom now has her own website page; Barbara Hipwell Fine Art.

SHOWS:
Salon Blue Ridge- Mother/Daughter Show through Dec 28th, 2012
Hotel Indigo (Downtown Asheville)- 1st Solo Show July-November 2011
Featured Artist at Carolina Mountain Land Conservacy Event- 9/2011
http://www.carolinamountain.org/
Art League of Henderson County Juried Shows- 2006-2011
Awarded Honerable Mention- Portraits, "The Greatest"
Silver Arts Show 2011
2nd Place Ribbons for "Aw Pears" (Oil Painting) + "Hilton Head Beauty
Parade" (Photography).
Arts Council Bring Us Your Best -Juried- 2009, 2010, 2011
Appalachian Pastel Society Juried Shows 2004, 2005
Upstairs Main Street Galleries 2005, 2006
Travel has always been a muse for Connie. A recent trip to Greece inspired,
"Life-Lines," which is featured on the Commissions page. Other trips to Asia
helped with the creation of collage work and other mixed-media works.
Constance Vlahoulis' art-passion is evident on Wednesday "Open Studio" where
area artists gather to work and share experience.
Her mission is, " to become a better artist and help others do the same."

On-going painting classes given by top-notch area artists are held weekly that
provide further growth and inspiration. The Conn-Artist STUDIOS have become
a favorite stop for area artists and art lovers. Neighborhood news outlets have
taken notice! A number of articles about the studio have been published.
She constantly encourages the public to support artists everywhere.

In May 2008, a group of 14 Henderson County Art Galleries joined together to
help promote arts in the community and in their studio/galleries and formed The Gallery Guild of Henderson County.
Connie served a judges for the
"Art on Main" August 2008 show.
plus the 2009, "Chalk It Up!" ; both in downtown Hendersonville, NC. (and mentioned every year in Southern Living Magazine).
2011 ~ Constance won the coveted Signature Piece Award for WNCAP. Her donated work HOPE RISING, now archived is available as a Fine Art Giclee on canvas or Limited Edition Print.
2/2012 HOPE RISING was on the Cover of The Laurel of Asheville Magazine.
2/14/2012 Constance created the biggest Photography Show in the area: The "CLICK!" Project.
14 Photographers by Invitation were on hand at the Gala Opening with about 300 people attending.
The group plans to stay together and work other projects. After the May 22nd close,
a portion of the show will go to the Hotel Indigo, downtown Asheville, NC for the summer. The next show, SPECTRUM is planned for June 2013 at The Conn-Artist Studios & will move to Working Girls Studio in Asheville for another months run.
Below is a photo of Connie and her Artist mom, Barbara Hipwell.
Oasis by Barbara just sold however, fine art reproductions available. It won a number of awards- so this art thing runs in the family!
"We are blessed to to be able paint together several days a week with other artists in our studio-gallery.
We love Wednesday and Friday OPEN STUDIO. Come and see us!" ~Constance